Meet Our Docs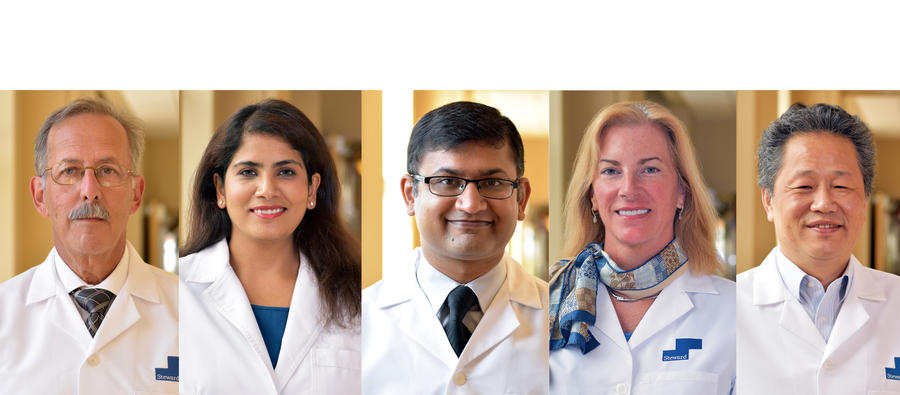 We are dedicated to providing you with the highest quality care with compassion. By continually expanding our team of providers, we are able to ensure convenient, easy access to key health services in the community for you and your loved ones.
Our robust team of physicians includes experienced providers you already know and trust, as well as providers who are newer to our community who welcome the opportunity to meet you and become your healthcare partner. From specialized services including orthopedics, infectious disease, oncology, pulmonology, and adult and pediatric neurology to family medicine, we provide compassionate, quality care in the right place, at the right time.
Jinal Gangar, MD - Family Medicine
"I enjoy establishing long term patient-physician relationship, coordinating care and advocating for the complete health of an individual and their families, in the community, that I consider my own." 
Dr. Gangar is a board-certified family medicine physician providing compassionate care to families from newborn to geriatric. Dr. Gangar develops long-term patient-physician relationships, advocating for the complete health of an individual and their families. She specializes in providing convenient and comprehensive care by providing procedures such as cervical pap smears, skin examinations, trigger point injections, women's health services, and sports physicals. Dr. Gangar offers extended hours for working families, providing accessible care to the community she considers her own.
Chulso Moon, MD - Oncology
"I chose this specialty To be able to be a part of the 'Big Picture.' The cure for all cancers." 
Dr. Moon is an MD Anderson-trained oncologist specializing in hematology-oncology. He received his medical degree from Seoul National University, School of Medicine in Seoul, South Korea and completed a hematology-oncology fellowship at the University of Texas MD Anderson Cancer Center in Houston. He acquired his PhD in human genetics and molecular biology and serves as an attending physician at Johns Hopkins with professorship.
Karen Agersborg, DO - Endocrinology
"My goal is to help patients feel better faster. it takes a team working together to get back on your feet." 
Dr. Agersborg is a board-certified endocrinologist offering patient-centered care. Dr. Agersborg offers extensive experience in diagnosing and treating adult patients with endocrine disorders and specializes in insulin resistant Type 2 diabetes. When not caring for her English Springer Spaniels, she enjoys competitive rowing, and earned Gold at the Master's World Championships in two races.
Shailendra Singh, MD - Cardiology
"I practice constant innovation in cardiology to provide minimally invasive therapies to our patients who benefit from quicker recovery, better outcomes." 
Dr. Singh, a native of the Lehigh Valley, is a board-certified interventional cardiologist. He is trained in high-risk coronary, peripheral vascular, and structural heart interventions (TAVR). He completed advanced training, performing more than 1,000 cardiovascular interventions in one of the highest volume centers in the country. He has been a leader in clinical research and published over 30 peer-reviewed abstracts and manuscripts, notably in the areas of: radial artery catheterization, cardiogenic shock and acute coronary syndrome. His background in Biomedical Engineering has also allowed him to participate in innovative work with various new cardiac technologies to improve patient outcomes. Dr. Singh returns to his home of the Lehigh Valley to leverage his expertise to give back to the community that fostered his growth.
Saima Shafi, MD - Internal Medicine
"Pursuing high standards of medical excellence has always been my goal. The ability to use skill and knowledge to make a difference in someone's life is something I find extremely rewarding and fulfilling." 
Dr. Shafi is a board-certified Internal Medicine physician providing compassionate care to geriatric and post-acute rehab patients in nursing facilities. Dr. Shafi has extensive experience in conditions related to geriatric patients including dementia, depression, diabetes, hypertension, respiratory diseases, palliative and hospice care. Dr. Shafi has been providing diagnostic, therapeutic and preventive medical services with emphasis on a patient-first approach for over 13 years. She was elected as chief medical resident during her residency years at Easton Hospital.
John W. Caruno, MD - Industrial Medicine
"As a provider in Easton for over 40 years, it has always been my focus to provide personalized, convenient care for local communities, businesses and employers. I PROVIDE specialized, quality care for my patients while maintaining the same individualized attention required to returning employees back to work quickly and efficiently." 
Dr. Caruno has been providing care to Easton and its surrounding communities since 1976.  
Dr. Caruno's office is open 7 days a week for general medical and urgent care for all ages. He specializes in industrial medicine, providing a comprehensive portfolio of services for work-related injuries and employment screening and physicals.
Aparna Tamaskar, MD - Family Medicine
"Patient care is a great experience and it is even more rewarding to see the same satisfaction in a patient's eyes. My patients are very important to me and have all been very close to my heart." 
Dr. Tamaskar is a board-certified family medicine physician providing a full-spectrum of care for the entire family from pediatrics to geriatrics. With special training in women's health, Dr. Tamaskar offers personalized care for her female patients from gynecological exams to contraception. Her one-stop-shop approach provides patients with accessibility and convenience with extended hours and same-day appointments designed to meet you and your family's needs.
Indira Kumar, MD – Adult and Pediatric Neurology
"I am excited to bring much-needed neurological care to our community. It is my passion to practice integrative, evidence-based medicine and care compassionately for adults and children affected by neurological disorders."
Dr. Kumar is a neurologist with special qualifications in pediatric neurology and a special interest in headache medicine. Her pursuit in health care started while at Rutgers University where she was granted the opportunity to study Ayurvedic Medicine (holistic medicine) at the Ayurvedic Rasashala in Pune India. She has participated in many medical missions including Uganda India and Nepal offering medical services to under-served isolated areas. It is her passion to practice integrative, evidence-based medicine and she believes her experiences in under-served areas allows her to see the broader scope of illnesses, examine healthcare pitfalls, and foster compassionate care
Jameel Durrani, MD - Pulmonary and Sleep Medicine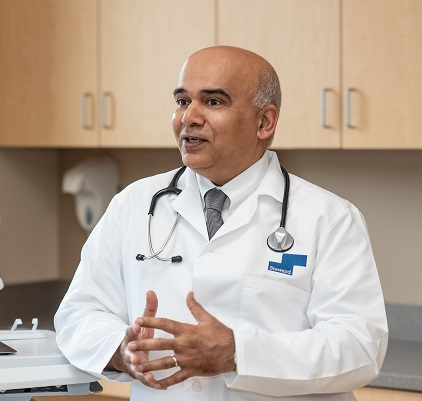 "I believe in patient-centered care. My focus is to provide the best possible care tailored to each individual patient's needs."
Dr. Durrani is a board-certified pulmonologist, critical care and sleep medicine specialist treating adults with sleep and breathing-related disorders such as cough, shortness of breath, snoring, daytime tiredness and fatigue. Common diseases managed and treated by Dr. Durrani include Asthma, COPD, Pneumonia, pulmonary nodules, sleep apnea, or insomnia. Experienced in special procedures including breathing tests, bronchoscopy (lung camera studies),  mechanical ventilation, mask ventilation (CPAP), and outpatient oxygen therapy, Dr. Durrani provides comprehensive, patient-centered care tailored to each individual patient's needs. 
Tariq Mahmood, MD - Neurology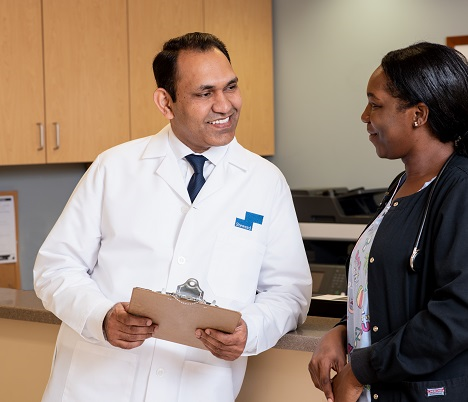 "My goal is to provide superior care to my patients. I provide each patient with a full understanding of treatment options, with the goal of achieving the highest quality of life."
Dr. Mahmood is a board-certified neurologist treating neurological disorders including strokes, seizures, passing-out spells, headaches, neuropathy, radiculopathy, multiple sclerosis, tremor disorders including Parkinson's disease, Alzheimer's and other related types of dementia.