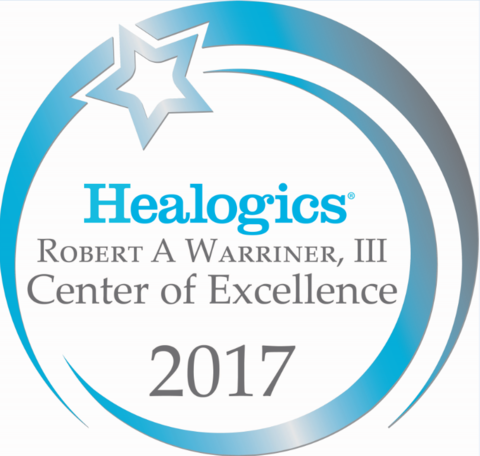 EASTON, PA – Steward Easton Hospital physicians, leaders, and clinicians celebrate the Robert A. Warriner III, M.D., Center of Excellence award, which was given to the Wound Healing Center at Steward Easton Hospital. This Center has achieved patient satisfaction rates higher than 92 percent and a healing rate of at least 91 percent in less than 30 median days to heal, for a minimum of two consecutive years. The Center was awarded this prestigious honor by Healogics, the nation's largest provider of advanced wound care services. The award is named for Dr. Robert A. Warriner III, a pioneer in wound care and the former Chief Medical Officer for Healogics.
"The clinical staff at the Steward Easton Hospital Wound Healing Center consistently meets the needs of our patients in order to help them heal their wounds," said Cheralyn S. Perkins, DPM, who has provided care at the Wound Healing Center for the past 14 years. "The multi-specialty environment is a great way to approach wound care. I appreciate the support of my fellow professionals and the availability of cutting-edge techniques to improve patient outcomes."
The Wound Healing Center at Steward Easton Hospital is a member of the Healogics network of nearly 700 Wound Care Centers®, with access to benchmarking data and proven experience treating approximately 2.5 million chronic wounds.  Wound Healing Center at Steward Easton Hospital offers highly specialized wound care to patients suffering from diabetic ulcers, pressure ulcers, infections and other chronic wounds which have not healed in a reasonable amount of time. Advanced treatments included negative pressure wound therapy, bio-engineered skin substitutes, hyperbaric oxygen therapy, biological and biosynthetic dressings and growth factor therapies.    
About Steward Easton Hospital
Easton Hospital is now a part of Steward Health Care, a fully integrated, national health care service organization. Steward's service delivery model leverages technology, innovation and care coordination to keep patients healthier. Steward Easton Hospital is a 196-bed acute care teaching hospital serving more than 300,000 residents in Northampton County and five surrounding counties in Pennsylvania and New Jersey. The hospital offers an active Emergency Department which sees more than 33,696 annual visits; a cardiac care program recognized as an accredited Chest pain Center and one of over 50 designated Heart attack Receiving Centers in the country; a Center for Orthopedics, Joint and Spine care; a certified Primary Stroke Center; and the Easton Regional Cancer Center, a member of the Jefferson Sidney Kimmel Cancer Network. In addition, the hospital maintains two freestanding, fully accredited residency training programs with Drexel University. To learn more visit www.easton-hospital.org
About Healogics
Headquartered in Jacksonville, Fla., Healogics and its affiliated companies manage a network of 700 outpatient Wound Care Centers® across the United States and multiple locations in the United Kingdom. Healogics currently has more than 3,000 employees, including nearly 300 employed providers (Healogics Specialty Providers). In addition to the company's network of outpatient Wound Care Centers, Healogics providers partner with over 400 skilled nursing facilities to care for patients with chronic wounds. More than 300,000 patients were treated by Healogics providers in 2017. For additional information, please visit Healogics.com.