Steward Easton Hospital Names Exceptional EMS Providers at "EMS Stewards of the Community" Awards
May 31 2018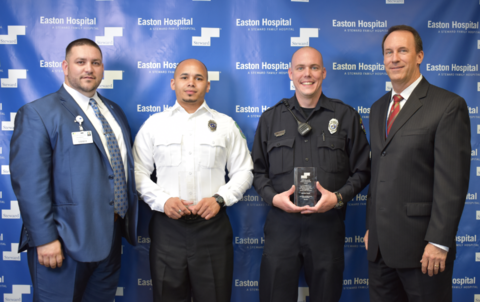 EASTON, PA – In celebration of National Emergency Medical Service (EMS) week, Steward Easton Hospital held the "EMS Stewards of the Community" Award Ceremony on May 25. Steward Easton Hospital recognized two EMS providers including emergency medical technician (EMT) Anthony Wheeler of Suburban EMS and paramedic supervisor Mike Regan of Bethlehem Township Volunteer Fire Company for going "above and beyond" in their interactions with patients at Steward Easton Hospital. 
"EMS providers are unsung heroes on the front lines in the battle against illness and injury," said Brendan Hayden, System Vice President for EMS at Steward Health Care. "We are immensely proud to honor their hard work and commitment to quality care with these annual awards." 
The "EMS Stewards of the Community" awards, took place at Steward Easton Hospital, and showed appreciation for emergency medical responders, emergency medical technicians, advanced emergency medical technicians, and paramedics who not only carry out the noble work of caring for others, but do so with a high degree of expertise, professionalism, and compassion. An internal committee of physicians and EMS Directors selected the award recipients among current providers in communities served by Steward. As part of National EMS Week, the hospitals also had on site celebrations for the local EMS providers.
About Steward Easton Hospital
Easton Hospital is now a part of Steward Health care, a fully integrated, national health care service organization. Steward's service delivery model leverages technology, innovation and care coordination to keep patients healthier. Steward Easton Hospital is a 196-bed acute care teaching hospital serving more than 300,000 residents in Northampton County and five surrounding counties in Pennsylvania and New Jersey. The hospital offers an active Emergency Department which sees more than 33,696 annual visits; a cardiac care program recognized as an accredited Chest pain Center and one of over 50 designated Heart attack Receiving Centers in the country; a Center for Orthopedics, Joint and Spine care; a certified Primary Stroke Center; and the Easton Regional Cancer Center, a member of the Jefferson Sidney Kimmel Cancer Network. In addition, the hospital maintains two freestanding, fully accredited residency training programs with Drexel University. To learn more visit www.easton-hospital.org