Bethlehem Township Community Center Employees to be Recognized by Easton Hospital for Life-Saving Actions
October 12 2018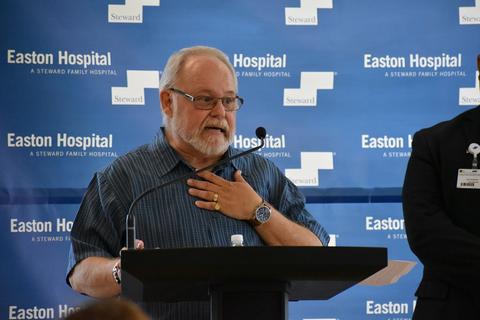 EASTON, PA – On May 24, 2018, retired special education teacher of Easton Area School District, Kirk Hawk, visited the Bethlehem Township Community Center to attend his routine exercise class. During the class, Hawk suddenly felt ill and walked toward the front desk where he collapsed moments later. 
William Wescoe, employee of the Bethlehem Township Community Center, immediately contacted 9-1-1 and Dana Donatelli began to administer cardiopulmonary resuscitation (CPR). Donatelli, Madisyn Einfalt, and Kylene Gill continued CPR for 7 minutes until Paramedics of Bethlehem Township Volunteer Fire Company and officers of the Bethlehem Township Police Department arrived to take over CPR and transport Hawk to Easton Hospital where he underwent life-saving cardiac-catheterization with angioplasty and stenting.
Today Kirk is 67 years old. He is grateful for the care he received and this wasn't the first time he had experienced a life-altering moment. In 1986, Hawk had his first-ever heart attack at the age of 35.
Since his first heart attack, Hawk developed a zest for life and maintained a positive attitude. He has committed to making healthy decisions toward his diet and enjoys frequenting the community center to attend cardio and Zumba classes.
"I always felt that if you put out positive energy, you will receive positive energy in return," said Hawk.
Easton Hospital will be hosting its Everyday Heroes ceremony on Friday, July 27, 2018 at the Bethlehem Township Community Center from 12:30 p.m. to 1:30 p.m. to honor those involved in saving the life of Hawk.