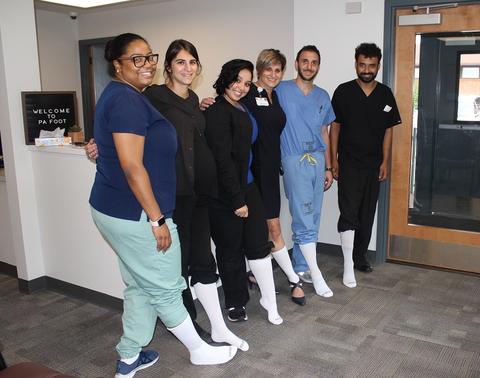 EASTON, PA – This September, Easton Hospital's Wound Care Center helps raise awareness for Peripheral Artery Disease (PAD) awareness month.
According to the American Heart Association, PAD affects about 8.5 million American adults. PAD is a cardiovascular condition in which arteries of the arms and legs begin to narrow, which results in poor blood flow. While PAD can affect the arteries of the head, arms, and stomach, the disease is most prevalent in the legs and can cause leg pains while walking or during exercise.
"Peripheral Artery Disease can impose serious health concerns for those affected by the disease, including heart attack, stroke, and even amputation," said Robert Bloch, MD, Chairman of Department of Surgery, Medical Director of Wound Center, and Associate Program Director of Surgical Residency Program at Easton Hospital.
In 2013, Dr. Desmond Bell, Founder and President of the Save a Leg, Save a Life Foundation (SALSAL), started the White Sock Campaign to raise awareness for PAD.
"Creating awareness for those impacted by this disease helps us affect change through education and further connects health care providers with their patients through solidarity," said Dr. Bloch.
Easton Hospital's Wound Care Center is passionate about amputation prevention for patients who have or are at risk of PAD, which is why employees of Easton Hospital's Wound Care Center wear white socks this September for all of those affected by PAD.