Easton Hospital Receives an 'A' for Patient Safety in Fall 2018 Leapfrog Hospital Safety Grade
November 8 2018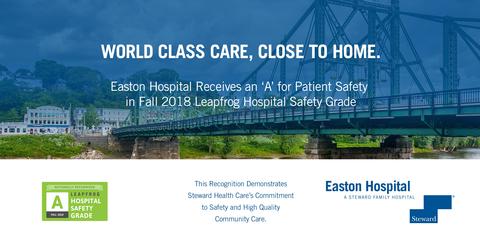 Easton Hospital Receives an 'A' for Patient Safety in Fall 2018 Leapfrog Hospital Safety Grade
Recognition Demonstrates Steward Health Care's Commitment to Safety and High Quality Community Care
EASTON, PA, November 8, 2018 – Easton Hospital – a Steward family hospital – was awarded an 'A' from The Leapfrog Group's Fall 2018 Hospital Safety Grade. The designation recognizes Easton Hospital's efforts in protecting patients from harm and meeting the highest safety standards in the United States. Easton Hospital is part of Steward Health Care – the nation's largest private, for profit physician led health care network in the United States – which leverages technology, innovation, and care coordination to provide the highest quality care and safety in communities where patients live.
"At Easton and across all Steward hospitals, patient safety is our top priority and we pride ourselves on keeping our community healthy, year after year," said Linda Grass, President of Easton Hospital. "Our score reflects our strong performance in minimizing 'Counts of Harm' - drastically improving patient safety, as well as commitment to investigate every single hospital complication, and a task force to rethink frontline staff utilization. We are honored to be recognized today by Leapfrog for delivering on this mission."
The Leapfrog Group is a national organization committed to improving health care quality and safety for consumers and purchasers. The Safety Grade assigns an A, B, C, D or F grade to hospitals across the country based on their performance in preventing medical errors, infections and other harms among patients in their care.
"Leapfrog's Hospital Safety Grades recognize hospitals like Easton Hospital that focus on advancing patient safety. This ranking provides an important resource for patients, and a benchmark for hospitals, to determine how care at one hospital compares to others in a region," said Leah Binder, president and CEO of The Leapfrog Group. "Hospitals that earn an A Hospital Safety Grade deserve to be recognized for their efforts in preventing medical harm and errors." 
Developed under the guidance of a National Expert Panel, the Leapfrog Hospital Safety Grade uses 28 measures of publicly available hospital safety data to assign grades to more than 2,600 U.S. hospitals twice per year. The Hospital Safety Grade's methodology is peer-reviewed and fully transparent, and the results are free to the public.
Steward's Easton Hospital was one of 855 across the United States awarded an A in the Fall 2018 update of grades. To see Easton Hospital's full grade details, and to access patient tips for staying safe in the hospital, visit www.hospitalsafetygrade.org and follow The Leapfrog Group on Twitter and Facebook.
About Easton Hospital
Easton Hospital is a 196-bed acute care teaching hospital serving more than 300,000 residents in Northampton County and five surrounding counties in Pennsylvania and New Jersey. Easton is part of Steward Health Care – a fully integrated, national health care service organization with a care delivery model that leverages technology, innovation, and care coordination to keep patients healthier. Easton Hospital offers an active Emergency Department which sees more than 33,696 annual visits; a cardiac care program recognized as an accredited Chest pain Center and one of over 50 designated Heart attack Receiving Centers in the country; a Center for Orthopedics, Joint and Spine care; a certified Primary Stroke Center; and the Easton Regional Cancer Center, a part of the Jefferson Sidney Kimmel Cancer Network. In addition, the hospital maintains two freestanding, fully accredited residency training programs with Drexel University. To learn more visit http://www.easton-hospital.org/
About Steward Health Care
Steward Health Care is the nation's largest private, for profit physician led health care network in the United States. Headquartered in Dallas, Texas, Steward operates 36 hospitals in the United States and the country of Malta that regularly receive top awards for quality and safety. The company employs approximately 40,000 health care professionals. The Steward network includes multiple urgent care centers and skilled nursing facilities, substantial behavioral health services, over 7,900 beds under management, and approximately 2.2 million full risk covered lives through the company's managed care and health insurance services. The total number of paneled lives within Steward's integrated care network is projected to reach three million in 2018.
The Steward Health Care Network includes five thousand physicians across 800 communities who help to provide more than 12 million patient encounters per year. Steward Medical Group, the company's employed physician group, provides more than six million patient encounters per year. The Steward Hospital Group operates hospitals in Malta and nine states across the U.S., including Arizona, Arkansas, Florida, Louisiana, Massachusetts, Ohio, Pennsylvania, Texas, and Utah.
About The Leapfrog Group
Founded in 2000 by large employers and other purchasers, The Leapfrog Group is a national nonprofit organization driving a movement for giant leaps forward in the quality and safety of American health care. The flagship Leapfrog Hospital Survey collects and transparently reports hospital performance, empowering purchasers to find the highest-value care and giving consumers the lifesaving information they need to make informed decisions. The Leapfrog Hospital Safety Grade, Leapfrog's other main initiative, assigns letter grades to hospitals based on their record of patient safety, helping consumers protect themselves and their families from errors, injuries, accidents, and infections. 
###