Primary Care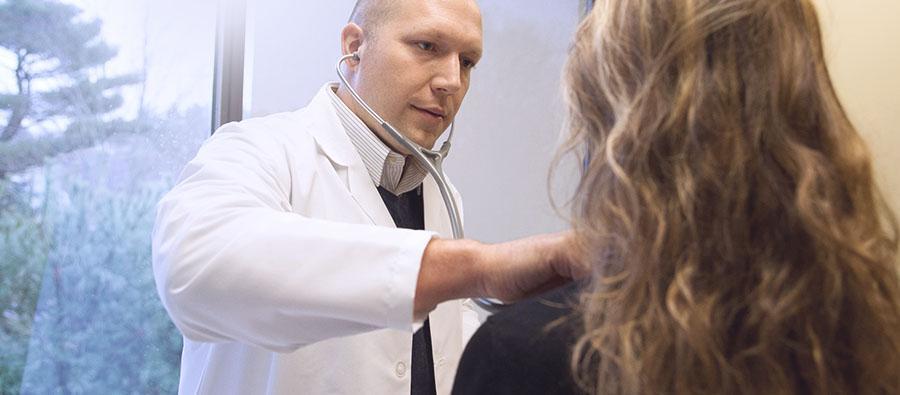 We are here to help you find what you need.
Your primary care doctor helps coordinate all your care and serves as your personal health advocate, so it's important to establish a long-term relationship so he or she is familiar with your history.
Primary Care Doctors for the Whole Family
Easton Hospital's primary care doctors have access to a wealth of resources to deliver quality care, from diagnostic and treatment options to a wide range of specialists and programs to meet your health needs. Choosing the right primary care doctor is an important decision — it should be someone who you feel comfortable with and can trust.
We are committed to making it easy to schedule a primary care appointment. Our primary care physicians can usually provide same-day appointments.
Find a Primary Care Doctor Who Will Be the Foundation of Your Health Care
Patients should have a partnership with their family doctor and primary care physician, with the end goal being continued good health and wellness.
What Do Primary Care Physicians (PCP) Do?
Primary care doctors recommend and administer vaccinations.
They learn your medical history inside and out, including potential congenital and hereditary issues, and give you advice on healthy lifestyle habits you can adopt to combat those risks.
If you're struggling with your weight, addiction, ED or any other health issue, they will provide non-judgmental, compassionate advice, education and resources to help.
Your family doctor will perform physicals and checkups, running blood tests, EKGs and other screenings to catch any potential health issues as early as possible.
If your PCP discovers potential warning signs for diseases or health conditions, they will help you find an appropriate specialist.
They will be your advocate and take a hand in coordinating your care while providing support if you're struggling with health problems.
Easton Hospital's primary care physicians provide a full range of medical services, including: 
Annual physical examination and wellness check
Minor procedures
Cancer screening
Family planning
Management of chronic illnesses such as high blood pressure, diabetes, heart disease, high cholesterol, skin diseases, joint problems, overweight, asthma and respiratory conditions, and depression
Vaccines and travel medicine
Women's Health
Whether you need preventive care and annual screenings, prenatal care, or need a specialist to manage osteoporosis, heart disease or another condition, we offer comprehensive services to meet all your health needs.
Internal Medicine
Easton Hospital is proud to offer highly qualified internal medicine physicians who provide the very best health care with kindness, respect and compassion.
Our internal medicine physicians (otherwise known as primary care physicians) offer comprehensive evaluation, consultation and medical management for all diseases. They focus on preventative medicine, health education and periodic check-ups. Your physician will coordinate your care with other specialists, as needed, to provide high quality care.
Through a wide network of physicians based at the hospital, primary care physicians provide community-based medicine and individualized care. Many of our physicians are fluent in multiple languages allowing us to better serve your needs.
The emphasis is on preventative care and disease management. General and specialty care can include:
Internal medicine
Breathing and lung disorders (pulmonology)
Heart disorders (cardiology)
Bone, muscle and joint disorders (orthopedics)
Digestive disorders (gastroenterology)
Brain and nerve disorders (neurology)
Kidney, bladder and urinary disorders (nephrology)
Cancer (oncology)
Gland and hormone disorders (endocrinology)
Resources
Family Medicine Physicians Care for the Entire Family

Choosing your primary care physician can sometimes boil down to a recommendation from a family member, friend or coworker, the doctor's proximity to home or work, or his or her focus on a particular area of health. Fortunately, within the Steward Health Care system, there are many options for primary care medicine, including family medicine.