Hear From Easton Orthopedics Patients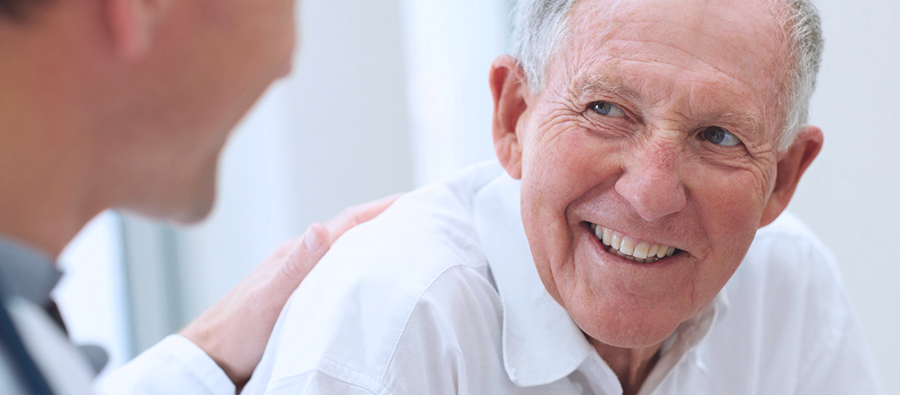 For the specialists on the medical staff at Easton Hospital's Center for Orthopedics, Joint and Spine, there's nothing more satisfying than helping patients reclaim the life they thought was behind them.
Read these inspiring stories from our Easton - and Bethlehem - area patients. And remember: you don't have to give up what you love, either.
Jim P. - Spine Surgery
Wearing a spandex racing shirt and shorts, Jim P. walks over to his road bike. The tires are worn smooth. Not surprising, since he puts in over 140 miles a week. The surprise? His vim and vigor after five spine surgeries at Easton Hospital.
Jim's back pain issues began on a hunting trip. As he was hoofing back to the cabin, he broke through several layers of snow and ice.
At the cabin, Jim's back hurt, but he wanted to enjoy time with his hunting buddies. As he took off his gear, he turned to grab his drink and got stuck. "I just couldn't move," he recalls.
By morning, the pain hadn't improved. The next day, he was too proud to miss work.
"It took me 45 minutes to get my socks on, but I made it to my 5 a.m. shift," Jim says.
Over the next seven months, Jim saw a chiropractor, had an MRI and went to physical therapy. Mostly he learned to live with the pain that shot across his sciatica and down his calf.
Finding Relief
Eventually, Jim was referred to Vito Loguidice, M.D., a spine specialist on the medical staff at Easton Hospital, who helped develop a more tailored physical therapy regime. The pain improved, but ultimately, Jim and Dr. Loguidice decided on surgery.
The procedure removed a portion of the bulging disc. "When I woke up, I asked my wife to go dancing," Jim says. "That's how good I felt."
Unfortunately, a few weeks later Jim experienced an unexpected setback. On his way back to work, his car was hit head on by another driver who ran a red light. Jim could barely stand up at the scene of the accident. Of course, he still went into work.
String of Spine Surgeries
By the next morning, Jim was at the Easton Hospital Emergency Department. An MRI showed the same disc was re-injured.
After months of rehab, he came back to Easton Hospital for disc replacement surgery. "It went well," Jim says. "The surgery had me right on track."
But on his last day of physical therapy, fate struck again as Jim froze in pain. "My physical therapist knew I liked to kid around and refused to believe me at first," says Jim.
Another MRI revealed more damage to two discs above his replacement. "It was like a domino effect," Jim says. "One bad disc caused the others to fall." This trend continued as Jim replaced two discs and fused two more over the coming years.
The Real Source of Back Pain
Then Jim found the real culprit.
Sacroiliac joint, or SI joint, injuries are often disguised as lower back pain. Dr. Loguidice was newly trained to perform a minimally invasive treatment called iFuse, a fusion of the SI joint.
In spring, Jim underwent the hour-long surgery, in which Dr. Loguidice inserted three small triangular titanium implants across to stabilize and fuse the SI joint.
Recovery was slow but successful.
Within two months he was off all of his pain medicines. He is working part-time, hunting regularly and free of back pain.
More importantly, Jim is on his bike again, watching the world whiz by over a pair of handlebars.
Ron P. - Total Hip Replacement
Ron P. is ready for a hobby again. That wasn't the case over the last five years. Ron, who is semi-retired as co-owner of Strunk Funeral Homes, became ill in 2011. He struggled with digestive health issues, blood clots, skin disorders and infections. Making matters worse were a bad hip and knee.
X-rays indicated that the cartilage in his hip was deteriorating. He tried medications and pain injections. After a year, another X-ray showed that the problem had gotten worse. "I was in such pain that I couldn't sleep," Ron says. When he moved at night, his wife, Marsha, would wake to a terrible grinding noise.
Sadly, he couldn't replace the joint until his other health issues were resolved. Soon he lost mobility. He used a walker for a few months, and then a scooter.
The day his final infection cleared, Ron called his orthopedic surgeon, JAMES REID, M.D., a member of the medical staff at Easton Hospital, to schedule a hip replacement.
3 Steps to Joint Replacement Success
Ron chose the simplified, three-step process of EASTON HOSPITAL'S JOINTWORKS! PROGRAM. Step one had him attend a pre-surgery class - along with other patients, affectionately called "campers", scheduled to have surgery on the same day. Together they met members of the joint replacement team and learned how to prepare and what to expect through the journey.
During step two - the day of surgery - Ron was excited that he was on his feet so quickly after the procedure. "I was surprised how the pain was gone," Ron says. "I was sore from surgery, but I was able to move with assistance."
For step three, Ron recovered in his private room on EASTON HOSPITAL'S DEDICATED ORTHOPEDICS FLOOR, and joined fellow campers for five sessions of group rehabilitation. The Joint Works! program uses a core group of physical therapists from Good Shepherd Rehabilitation. "I amazed myself," Ron says. "The therapists were surprised too. I was more flexible than I ever imagined after having been in the scooter for so long."
Ron liked traveling through the steps with other campers. "I got to know their names and develop relationships with them even over that short period of time," he says.
Hobby Time
Ron used a walker and then a cane as he gained strength and confidence in his new hip. "I could have given up the cane sooner than I did," he says.
He's been pain free since his hip replacement. And, surprisingly, even his knee feels much better. Ron is happy to be able to join Marsha in regular activities again.
"I need a new hobby," Ron says. But he has one that he gave up: fishing. He has a small boat on a nearby lake. Last summer, he couldn't even get in the boat. "I will be more involved this summer," he says. "And I look forward to swimming again."
As Rob looks toward the future, he reflects on his surgical experience. "I can't say enough about Dr. Reid, the nurses and therapists at Easton Hospital," he says.
"Anything is as good as you make it, and that joint program is as good as it gets."