Robotic Surgery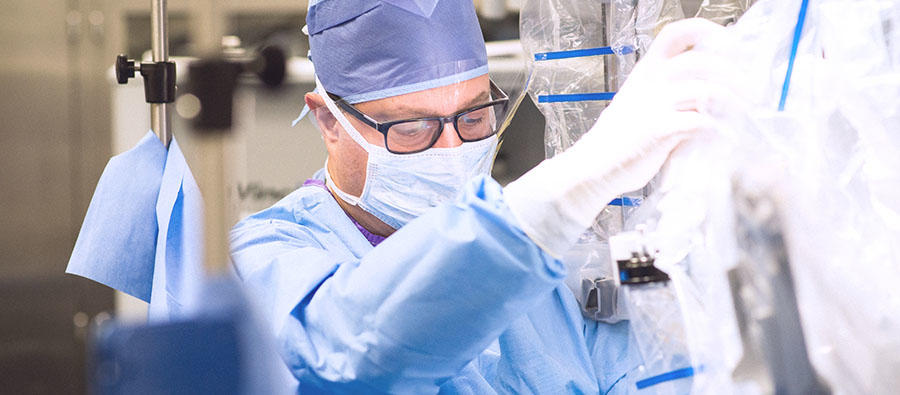 We are here to help you find what you need.
Easton Hospital proudly offers this advanced treatment option to patients close to home with robotic capabilities that give our doctors and nurses a high-tech helping hand.
Robotic surgery is a type of minimally invasive surgery that uses a computer-assisted technology to aid in surgical procedures. Rather than operating on patients through large incisions, surgeons use miniaturized surgical instruments that fit through a series of small incisions to reduce scarring and recovery time.
Medical technology has come a long way—so far that we may now use robotic "hands" to assist surgeons during complex and delicate procedures. Robotic surgery includes three arms that allow the surgeon to hold and manipulate high-precision instruments, plus one more arm to hold and position the high-resolution stereo endoscope.
Advanced visualization to help the surgeon
The surgeon is seated at a separate console and controls the high precision instruments by viewing the operative site through high resolution, 3-D imaging. This provides excellent visualization to better control the instruments in the abdominal cavity and a broader range of motion at the instrument tip than is possible with traditional laparoscopy. Robotic-assisted surgery allows a surgeon to perform the same quality of operation as traditional, open surgery through smaller incisions, typically with less pain, less bleeding and a faster recovery.
Gynecology
Through tiny, 1-2 cm incisions, Easton surgeons can operate with greater precision and control, minimizing the pain and risk associated with large incisions while increasing the likelihood of a fast recovery and excellent clinical outcomes.
Hysterectomy (uterus removal)
Oopherectomy (ovary removal)
Myomectomy (uterine fibroids removal)
Urology
Surgery around the male reproductive organs and urinary tract requires surgical precision. Conditions like prostate cancer, trouble with urination and bladder and kidney cancer require special care to not damage complicated tissues and nerves surrounding these areas.
Partial Nephrectomy
Radical Nephrectomy
Prostatectomy
General Surgery
Cholecystectomy (Gall bladder removal)
Single-site Option: Able to remove a diseased gallbladder through a tiny incision in the belly button that leaves the patient virtually scarless and it only takes about an hour.
Colectomy (colon or rectum removal)
Robotic-assisted laparascopic surgery is also being used to perform colectomies in challenging areas, including the lower pelvis.
Gastric Bypass (surgical weight loss)
Lymph Node Dissection
Paraesophageal Hernia Repair
Sleeve Gastrectomy
Ventral Hernia Repair