Hear From Easton Weight Loss Patients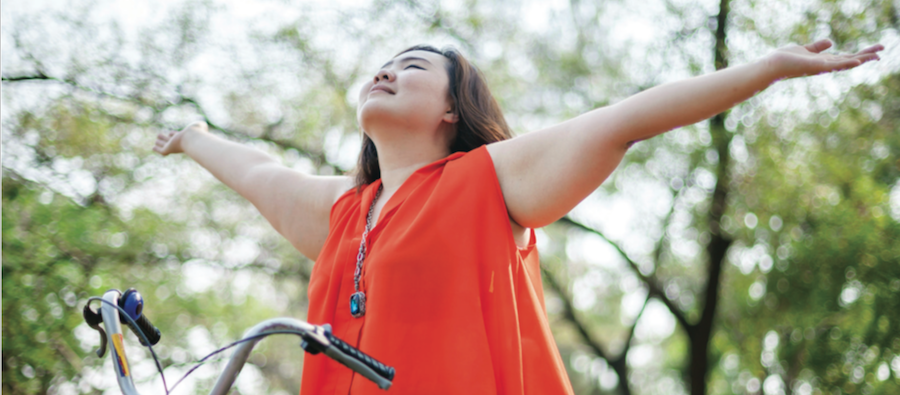 Every day, we're inspired watching our Greater Lehigh Valley-area patients take charge of their health and lives, and are privileged to help guide that transformation. We invite you to share in their stories with bariatric surgeon, VINAY SINGHAL, M.D., and his team at Easton Hospital. And remember: you, too, can have life-changing success.
Troy R. - Laparoscopic Gastric Bypass
Troy R. enjoys when the kingsize.com clothing catalogue lands in his mailbox. It's a reminder of how far he has come. He'll scan through the pages, pausing at the 7X shirts and the size 70 waist jeans he used to order.
Eating has always been a focal point in Troy's life. As a child, he was considered husky. By high school, he weighed 265 pounds. It didn't faze him since he and his parents were always tall and stocky.
Even at 460 pounds Troy thought he was OK. "Sure, I was stressed, sweaty and tired most of the time," he says. "But I could still keep up."
Or so he thought. His wife, Missy, enrolled in Weight Watchers and urged him to do the same. Over the course of 16 months, she lost 140 pounds.
Troy lost a mere 30 pounds. What Missy didn't know was Troy's hidden habits. He stopped his walking regime. He was sneaking soda, fast food and chewing tobacco. Soon he decided he needed an easier option.
First Attempt
Troy enrolled in the Surgical Weight loss Program at Easton Hospital. "I just wanted the surgery," he says. "So I thought I would put in the time until I had the procedure." He was indifferent toward the nutrition classes, the support meetings and the exercise component.
"I wasn't ready to change my life," he says. "After two months when I became worried that I would never eat again, I backed out. At the time I thought what's the sense of living if I can't eat."
After that failure, Troy became secluded, depressed and embarrassed. His weight hit an all-time high. "My wife was worried and asked me to come to her work where she had me stand on the freight scale," Troy says. He weighed 546 pounds.
Life Changing
Around the same time, Troy had two life-changing moments. Two close friends died. One of cancer, the other of diabetes-related illnesses.
Troy himself was a type 2 diabetic. In fact, he took 13 medications for blood pressure, cholesterol, asthma and aches and pains. He used a CPAP machine for his sleep apnea and slept in a recliner in his living room because he could not lay flat in a bed.
The deaths were a wake-up call. This time Troy was ready for real change. "I was ready to transform my habits and get healthy," he says. But with his renewed commitment he also wanted to give his hospital selection some due diligence. "I read online about the surgery options and attended information sessions at several hospitals," Troy says.
"But Easton Hospital gave me the best chance at a new life."
When he went to the new patient orientation, he weighed 525 pounds. He moved through each class with zeal. "They give you every tool to succeed and help keep you honest," Troy says. "I've known other people in other programs who have no classes and no support and then gain the weight right back." Troy knew this wouldn't be his fate.
Real Commitment
On January 28, 2013, Troy underwent gastric bypass. A few days later, he left the hospital feeling good and weighing 506 pounds. He then began the nutrition and exercise plan. Within two weeks, he was off all of his medications. By October, his cholesterol improved and he remained tobacco free and stopped using his CPAP. "I swear my hair's even starting growing again," Troy jokes.
Today his weight sits a bit over 350 pounds, close to his goal of 280 pounds. He walks 3-4 miles about four times a week. His life doesn't revolve around food anymore. He even worries less. He likes that he can sit in a theatre seat to watch his son's technical work at college performances. He likes that he can shop in real stores. He likes that support is a phone call away.
"If I ever think my weight loss is stalling, I just pick up the phone or stop in," he says. "Easton Hospital feels like family to me. They do all they can for the best outcome and give me the hope and knowledge that I can succeed."
Troy plans to run in a 5K race soon. His wife even treated him to a pair of high performance running shoes.
"I'm never going back to what I was," he says. "It's too much fun feeling like you are walking on air."
Lorree T. - Laparoscopic Gastric Sleeve
Lorree T. made the decision as she was driving to work in Allentown. She immediately picked up the phone and called Mandy Nyce, the Surgical Weight loss Program Coordinator at Easton Hospital.
"I said to myself I don't want to be tired and fat anymore," Lorree says. "I want to be in my kids' lives, not on the sidelines."
Her struggle with weight began after her son was born. "I used to be thin," she says. "But having a baby slowed my metabolism." A few years later after her daughter was born, she gained even more weight.
Attempts to Lose
With two kids who are active in sports and activities, Lorree often is running from event to event. "When it's baseball season and I'm carting a bunch of kids across the county, it's easy to stop for fast food or get stuck eating at the concession stand," she says.
"And I love to eat healthy," Lorree says. "But it can get time consuming to make and expensive to buy."
It doesn't mean she hasn't tried to eat well.
"I've gone on streaks," she says. "But then life happens."
Over the past 13 years, Lorree has also tried various weight loss systems that involved buying food or using cards and books. Those were streaky as well.
Put fad diets on the list too. "My latest was the military diet," she says. "I remember eating lots of tuna." Those diets helped her lose five to seven pounds a week, but the weight never stayed off.
She's tried prescription diet pills and even was selected by a local radio station to compete in a biggest loser-style competition. "I got a free gym membership and two hours of personal training over eight weeks," she says. "It was fun, and I felt good after workouts."
But she couldn't afford the membership when the competition ended.
Preparing for Surgery
Going to Easton Hospital was an easy choice. Lorree's best friend had gastric sleeve surgery there two years ago. It's what inspired Lorree. "My friend has lost 89 pounds and made real lifestyle adjustments," she says.
But when she talked about the possibility with her family, they weren't behind her. "They'd say I was fine the way I am or that surgery was too extreme," she says.
She listened, but after another year of failed weight loss attempts, Lorree went to the surgical weight loss information session at Easton Hospital, the new patient seminar and the support group...all without telling a soul.
When she supplied her family with materials and resources to better understand surgery, they all got on board. She says, "They now are my biggest supporters."
In early December, Lorree is scheduled for surgery with Vinay Singhal, MD, weight loss surgeon and an associate fellow of the American College of Surgeons.
"I didn't shop around," Lorree says. "Knowing my friend used Easton and that the program has earned the Center of Excellence designation took a lot of the stress out of the decision."
"I feel very confident in Dr. Singhal," Lorree says. "Plus I know people in other programs, and they are not getting the information or support I get at Easton."
She is preparing for surgery in the Pathway Classes where she is learning about nutrition, exercise and support. "Some of my friends are just signed up for surgery," she says. "But I am learning how to change my habits which sets me up for lasting success."
Visioning the Future
Halloween is her favorite holiday.
"I love decorating, dressing up and being a kid again," she says. "And next year, I plan to buy, not make, a fabulous costume in regular people's sizes."
She already knows the theme for next year's shindig: Zombie Wedding. Lorree says, "I am going to get a short, sexy dress and look like one hell of a beautiful bride."
Her confidence makes it sound like a real commitment ceremony.